China Duracut is a professional manufacturer, supplier and exporter specializing in all kinds of electroplated diamond tools, diamond tools as well as other related products. Since 1998, we've been engaging in the developing and researching of quality diamond products to meet the diverse needs of customers from different industrial fields.
Products & Services:
·All kinds of electroplated diamond products (nickel bond).
·Diamond products (metal bond), including sintered, laser welded and silver brazed diamond blades, grinding cup wheels, core drills, etc.
·Carbide rotary files (carbide high speed cutter)
·Other related products
All products can be custom made according to specific request. Please visit products page for details.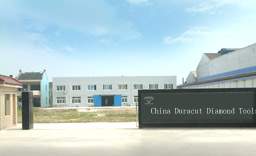 Our electroplated diamond tools factory is located in Changshu, Jiangsu. The factory covers an area of 3,000 Square meters with more than 40 employees. Annual output of all kinds of electroplated diamond products reaches 1 million USD. Products have been successfully sold to several countries and regions around the world, such as USA, Japan, India, Spain, the Middle East, etc. Especially the electroplated diamond cutting discs are most welcome by customers for the high quality and excellent performance. Our partner factories of diamond blades are situated in Suzhou, Wuxi and Danyan where are important manufacturing bases of diamond tools in China. We can supply the diamond tools according to specific requirements by adjusting designs, bond matrix, diamond density, etc.
Our highest business goal is to supply the most suitable electroplated diamond tools and diamond tools to our clients at the most reasonable prices. Welcome to contact us for any information and inquiry!


Top of page